For some odd reason, I have lost my taste for cooked salmon. The raw version is still a favourite – it's the heated version thats lost it's appeal. But, fish is healthy, and salmon is readily available, so I'm making an effort to liking salmon again. A very tasty experiment to launch "the salmon comeback" is salmon cubes with crispy vegetables and excotic teriyaki sauce.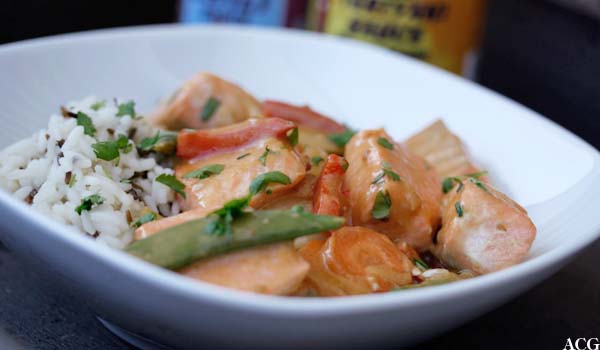 Salmon with teriyaki sauce (1 portion)
125-150 g salmon filet in cubes
1/2 onion, in wedges
1 clove of garlic, finely chopped
1/4 red chili without seeds, finely chopped
1 carrot, peeled, in slices
1/2 red bell pepper, sliced
sugar snaps
the juice of 1/4 lime
3-5 ss teriyaki sauce (japanese sauce)
0,75 dl coconut milk
Rice
sun flower seed oil for frying
Sweet chili sauce
Fresh coriander/silantro (optional
Salt
In a frying pan: heat a little oil over medium to strong heat and add the onion, garlic, chili and carrot slices. Stir for a couple of minutes. Add the bell pepper and sugar snaps, and the lime juice. Stir for a minute more. Add the teriyaki sauce and coconut milk to the pan and stir until blended. Turn down the heat and add the cubes of salmon. Leave to steam under a lid until the salmon is cocked through. Add salt to taste. Serve with some chopped coriander, sweet chili sauce and boiled rice.