Min fargerike og alltid blide kollega, Inger May, er til konstant inspirasjon for nye oppskrifter og mattips som jeg tar med meg videre inn på mitt knøttlille kjøkken. Et godt eksempel er "Inger Mays karridressing". Den er blitt en slager blant alle damene på jobben. Først og fremst fordi den smaker spennende og eksotisk, og er så langt fra Thousand Island som man kan komme (ish). Men også fordi den kun består av to ting: Mango Curry Sauce og lettrømme.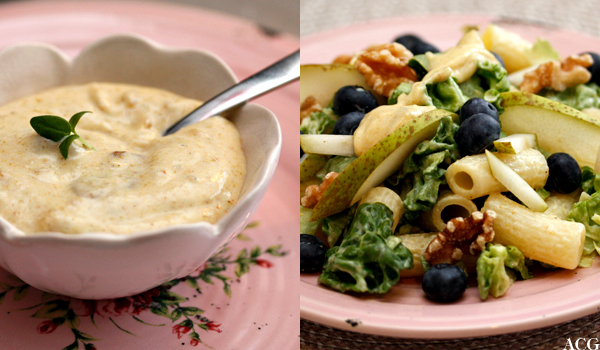 Dressingen er sabla god til salat, og helt konge på et saftig, hjemmelaget sandwich… Her er to versjoner av Inger Mays dressing:
Inger Mays karridressing – den originale (1 porsjon)
30 g lettrømme
ca 2 ts Heinz Curry Mango sauce
Rør sammen. Bland sammen litt av dressingen med oppkuttet hjertesalat, grovhakket vårløk og kokt pasta. Ha over pære i skiver, 5-10 blåbær og kanskje et par ristede valnøtter, og nyt en fantastisk frisk og spennende lunsjsalat.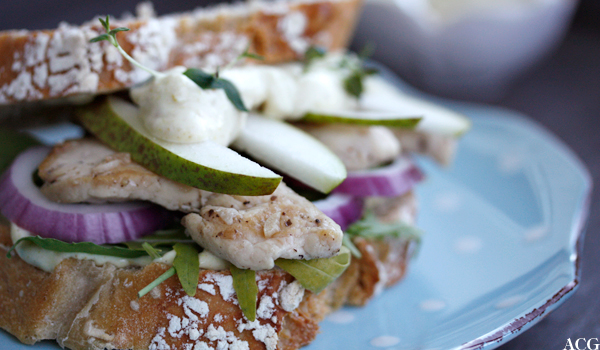 Jeg hadde tilfeldigvis ikke ferdigsausen tilgjengelig da jeg skulle lage dressingen her om dagen, så jeg improviserte lit:
Karridressing – litt mer komplisert versjon (1 porsjon)
30 g lettrømme
ca 2 ts mangochutney
ca 0,5 ts karripulver
Rør sammen. Smør utover deilig godt brød sammen med litt ruccola, stekt kylling, ringer av rødløk og pæreskiver. Namnam!
TIPS: Jeg må bare poengtere at kombinasjonen pære og Inger Mays dressing er en sikker vinner. Enten det er på sandwich eller salat.