Sometimes I turn to my favorite cookbook Familiekokeboka for inspiration. It is of course in Norwegian, but here is the wonderful and spicy potato and chorizo salad for those who are not fluent in Norwegian (yet).
This recipe reminded me that capers goes really well with potatoes, and that the best chorizo available is in Spain (since it is a Spanish sausage this should be obvious ;-) ). This very tasty dish stands on its own, or can be used as powerful side dish.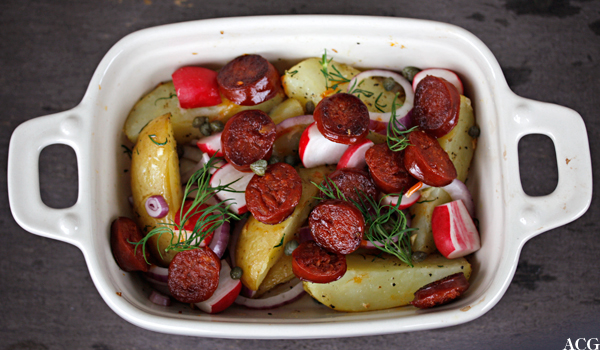 Potato salad with spicy chorizo (1 portion)
2 potatoes, medium size, in wedges
1 clove of garlic, finely chopped
Olive oil
75-100 g chorizo picante, in small chunks
1/4 red onion, sliced
5 radishes, in chunks
2 ts capers
Dill
Salt and pepper
The juice of 1/4 lemon, freshly squeezed
Set the oven to 200 degrees celcius. Scrub the potatoes and cut in wedges. Boil the potatoes in light salted water, until they are almost cooked through. Let them dry off before putting them in an oven safe dish. Mix together oil and garlic, and pour the mix over the potatoes. Mix well and place the dish in the oven. Let the potatoes roast until they are slightly golden and cooked all the way through (about 10 minutes). You might want to stir the potatoes once or twice.
Cut the chorizo into chunky pieces, and stir fry until the oil starts spilling from the sausage. Let the chunks dry of on a piece of kitchen towel to get rid of the excess oil.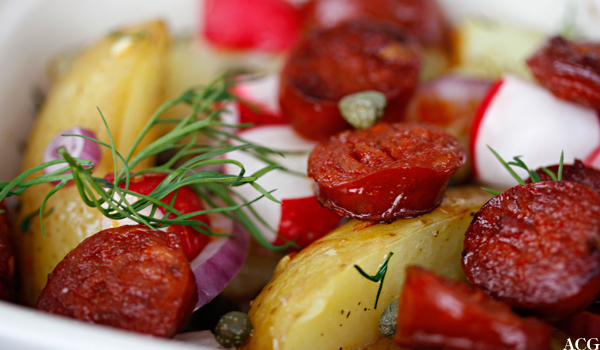 When the potatoes are done, let them cool for a minute or two before you mix in the rest of the ingredients. Add freshly ground pepper, salt and lemon juice just before serving. Enjoy at once…